Keratoconus: Contact lenses, treatment & cost
As research continues to discover new and more advanced ways of treating keratoconus, eye care professionals are able to provide their patients with more treatment options. Keratoconus is among the most common corneal conditions, affecting approximately 1 in 1,200 people. It usually appears in patients around the age of 20, with symptoms including distorted and blurred vision.
Dr. Robert Davis has been helping patients experience visual clarity with contact lenses that are specially designed to improve vision for patients experiencing keratoconus. As a keratoconus specialist, Dr. Davis is skilled in the diagnosis and treatment of this condition, helping patients to experience better vision and protect their vision and eye health.
What Is keratoconus?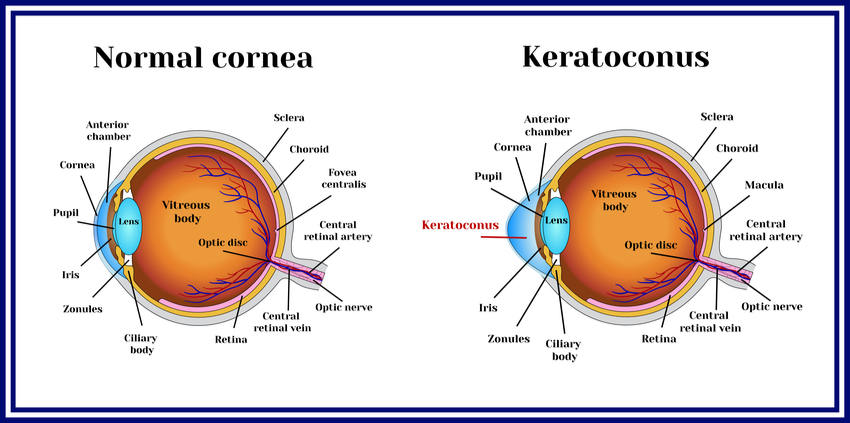 Keratoconus occurs when the cornea bulges in cone-like shape. The eye is no longer able to focus due to the prevention of light rays from reaching the back of the eye. Keratoconus can cause secondary conditions including nearsightedness and irregular astigmatism.
How is keratoconus diagnosed?
An eye exam is the first step in diagnosing keratoconus. Dr. Davis can provide an expert diagnosis using a corneal topography assessment. This assesses the regularity of the cornea by mapping it, which also provides measurements that help us to determine which type of contact lens will work best for you if you have keratoconus.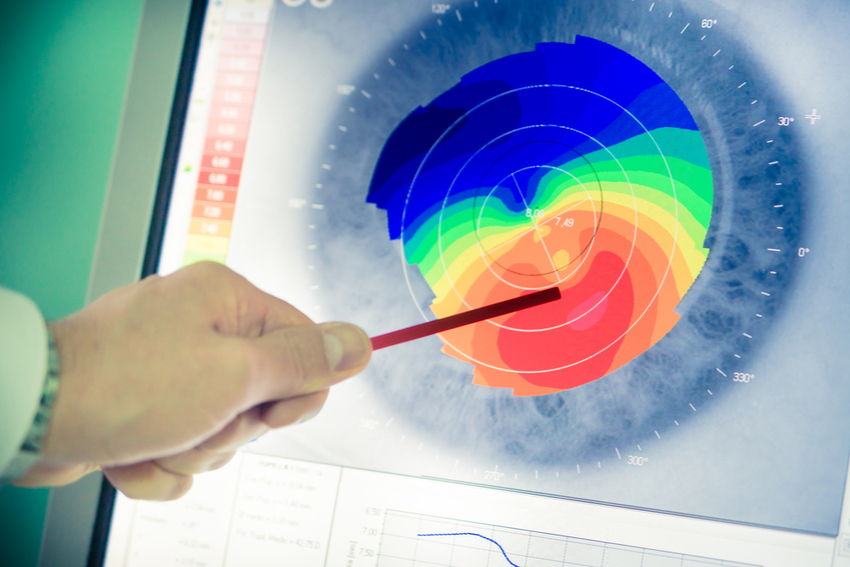 Dr. Davis will then work on customizing the contact lenses specifically for your eye shape and visual needs. Contact lenses are by far the best method of managing keratoconus and helping to prevent it from progressing to its advanced stages.
What kind of contact lenses are used for keratoconus?
Contact lenses have been used to treat keratoconus since the early 1800s and today offer the most comfortable and advanced treatment solution for patients with early to mild keratoconus. In the past patients would have to rely on hard lenses for keratoconus management to provide visual comfort but today there are many more options available.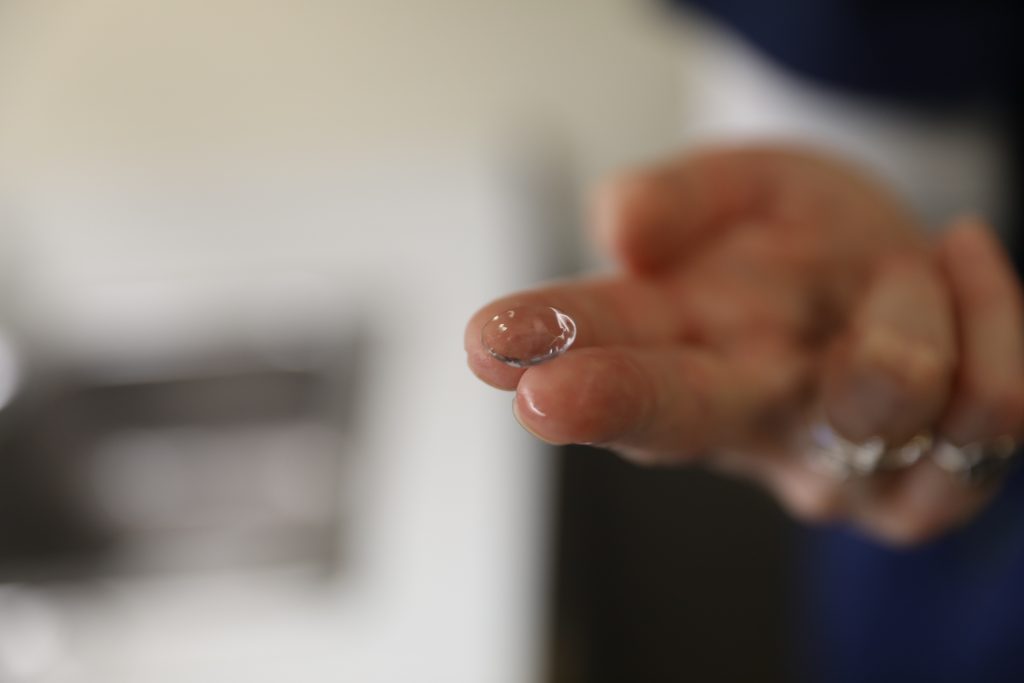 Soft – suitable for mild cases and an excellent choice for patients with astigmatism.
Gas permeable – hard contact lenses for keratoconus, that give the patient sharper vision.
Scleral – providing a wider coverage area, scleral lenses completely cover the eye improving astigmatism and refractive errors.
Hybrid – offering improved comfort, hybrid lenses offer the same refractive improvement as RGP lenses while providing a more comfortable visual experience for patients.
Following your eye exam, Dr. Davis will be able to determine which type of contact lens is best suited for your individual needs. Patients who have more advanced keratoconus, may not be able to wear contact lenses, and will instead be referred for surgery to improve their vision.
What is corneal transplant surgery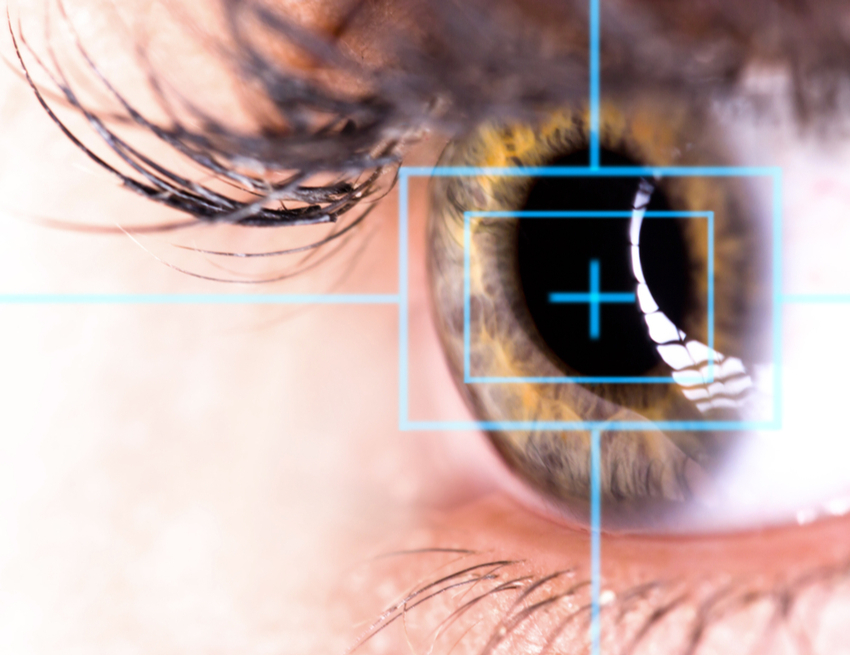 If keratoconus has progressed to its advanced stage, then corneal transplant surgery may be the best solution. Corneal transplant surgery replaces part of the cornea with a donor.
How much do keratoconus contact lenses cost?
Keratoconus contact lenses are an affordable solution to manage this progressive eye condition. Most insurance carriers will provide coverage for keratoconus contact lenses. Our team is happy to discuss the keratoconus treatment cost with you once Dr. Davis has made the appropriate recommendation.
How long will it take to adapt to keratoconus contact lenses?
Most patients will experience a noticeable difference in vision right away. Our team will ensure that patients have a complete understanding of how to insert and remove their contact lenses to ensure maximum comfort and on contact lens hygiene to reduce the risk of discomfort or infection.
Here to help you manage keratoconus
Dr. Davis is here to help patients effectively manage their keratoconus. He has been a trusted eye doctor in Oak Lawn and the Chicago area for many years, providing successful management plans to hundreds of patients.
To arrange an eye exam, or talk about your keratoconus concerns, call the office or book online today.