Optical treatments
to slow the progression of
nearsightedness in children
Optical treatments to slow the progression of nearsightedness in children
Davis EyeCare prides itself on patient education and has always been at the forefront of development with it's contact lenses, disease treatment and products.
This reputation of expert diagnostic ability, creative design and quality eyecare has drawn people in from across the United States.

Experienced Professionals
Our team of knowledgable, caring individuals will do all that is possible to make your visit enjoyable.

Instrumental in the development of techniques for refractive disorders and medical disease.

Davis EyeCare have evaluated new contact lens designs and novel eyecare technologies.

PROFESSIONAL ASSOCIATIONS
Davis Eyecare and its Optometrists are active in many professional associations.
Your Chicagoland Optometrist serving Oak Lawn
Patient education is one of the services we offer at each eye examination. Patients should expect that we diagnose and treat their medical eye condition, as well as provide a source of information about new developments in the eye care field.
Davis EyeCare has been on the cutting edge of development and has evaluated many important new contact lens designs and novel eyecare technologies. There is always something new at Davis EyeCare.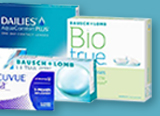 In-Store collection same day
Exclusive online collection
All Glasses Include

Thin & Light, Anti Reflective Scratch Resistant Lenses